Question: What made you want to become a screenwriter?
Answer: I saw a film called Eternal Sunshine of the Spotless Mind and I immediately knew that I wanted to become a part of cinematic magic. I was impressed with the unique imagination of the screenwriter, Charlie Kaufmann, and how he transgressed traditional story paradigms, especially those about love and romance. It was bewitching actually to see his story structurally unfold in such a brilliant,  innovative, and even haunting. And since I was already a writer and loved storytelling, the choice to become a screenwriter seemed natural.
Q: Have there been other movies or screenwriters that have inspired you in such a profound way?
A: Yes, many. I think automatically about M. Knight Shyamalan who came out with The Sixth Sense and Signs. I loved his thoughtful and melancholic pacing of story and admired his knack to suspense and riveting "reveal." He is also not afraid to be ambitious with his style of sci-fi storyteller. He doesn't necessarily need UFOs or big explosions to make an impact on audience members; he simply can make an impression with subtle suspense so that's pretty artistic to me.
Diablo Cody is also pretty bad-ass and Juno was simple and deeply philosophical. She's awesome.
There are so many important films (and T.V. shows) but ones that stood out for sure were Rust and Bone, Amelie, Little Miss Sunshine, Apocalypto, Big, Game of Thrones, Spartacus, Run & Jump, Call Me by Your NameMedicine for Melancholy, Hustle & Flow, Nothing But a Man, In Good Company, City of God, Blackout, Breaking Upwards, Beyond the Lights, Away We Go, Ex-Machina, Remember the Titans, Soul Man and most 80's films.
Q: What's your favorite genre to write in as a screenwriter?
A: So while I like writing across the genres (especially romantic comedy), my favorite genre is dramatic sci-fi. I can't help but mix the mundane with the surreal and imaginary. Although life itself is quite engaging and, more often than not, quite under-rated, I take special interest in exploring the "other-worldliness" beyond what's considered natural; so subjects like "magical realism" and "futuristic technology" and their affects on ordinary society interests me.
Q: Aside from the craft of screenwriting, you also practice writing in other forms. How does the process with the other forms compare with screenwriting?
A: Wow, so there's definitely a difference in craft and so I am forced to approach each one differently.  I write fiction, poetry, creative nonfiction and playwriting and have realized that each craft induce a different strength, effort and focus from myself as a creative.
Screenwriting is by far the hardest craft to master to me. In fact, being a screenwriting is by far one of the most difficult tasks any human being could take on. This particular craft works the analytical, scientific and mathematical side of my brain. I feel like it requires a lot of "puzzle-solving" and I can pretty much relate the act of screenwriting to act of building a house, or even more daunting, solving a rubik's cube.
Playwriting and fiction writing allow me to draw upon my humorous side. I love dialogue and character description and so feel like I am allowed to flourish as a thinker in a very indiscriminate way. I definitely feel a lot freer being my creative self in these particular forms.
Creative non-fiction draws out a very reflective side, which is great because it affords me the opportunity to process my life and feelings.
Poetry is, however, my favorite form. It demands truth from my core being and allows me to unbridle my deepest, darkest thoughts and secrets. Poetry also deepens my appreciation for language as it encourages me to investigate the value of every word and even every comma. I love using commas and colons in poetry!
Q: What possible advice would you give up-and-coming screenwriters?
A: Screenwriting itself is quite difficult to master and so requires that you consistently learn and practice the fundamentals like plot structure and character development. What helps is readings lots of screenplays, analyzing lots of movies and getting a lot of feedback from other screenwriters that are on the same journey and that have gone ahead of you. If you can find a screenwriting mentor, then that is key to your development and possible success. Meanwhile, couple that with maintaining an unwavering passion for the craft and also developing a stern resilience that forces you to never give.
The screenwriting industry is quite impossible to break into because unless you have an "in-road" or someone on the inside (ie. agent, producer, creative network), the task of breaking in is almost near impossible. So definitely resort to a lot of prayer and a lot of putting out "good vibes" to the universe so that you would be better positioned to be like a "David" who conquered a "Goliath."
And at some point, if you know you're offering quality stories without getting the right recognition, simply take matters into your own hand and film your work or find someone local to film it for you, thereby, living with the peace and contentment of just creating to make meaningful and beneficent contribution to the cinematic world, which can impact so many.
About the Screenwriter: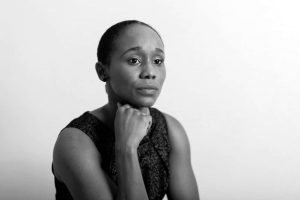 Ernestia Fraser is a published author and award-winning poet and screenwriter with a double B.A. in a English and Communication and an M.F.A. in Creative Writing: Screenwriting. In 2011, her screenplay, Inside the Fallen Moon, won 1st prize in the Hollywood Black Film Festival International Storyteller Competition. Following the success of her script, Fraser was awarded a screenwriting fellowship at the Writer's Institute for Diversity in Los Angeles, which was facilitated by Harrison Reiner, a CBS Television Story Analyst. Her first book, a memoir called Carnival of Love: A Tale of a Bahamian Family, is now being taught in high schools across The Bahamas, her native homeland. Fraser is currently living in the Bahamas, working as a creative writing instructor at The Tutoring Station and a part-time editor at MasterWriting242.
All scripts are registered with the Writer's Guild of America West.